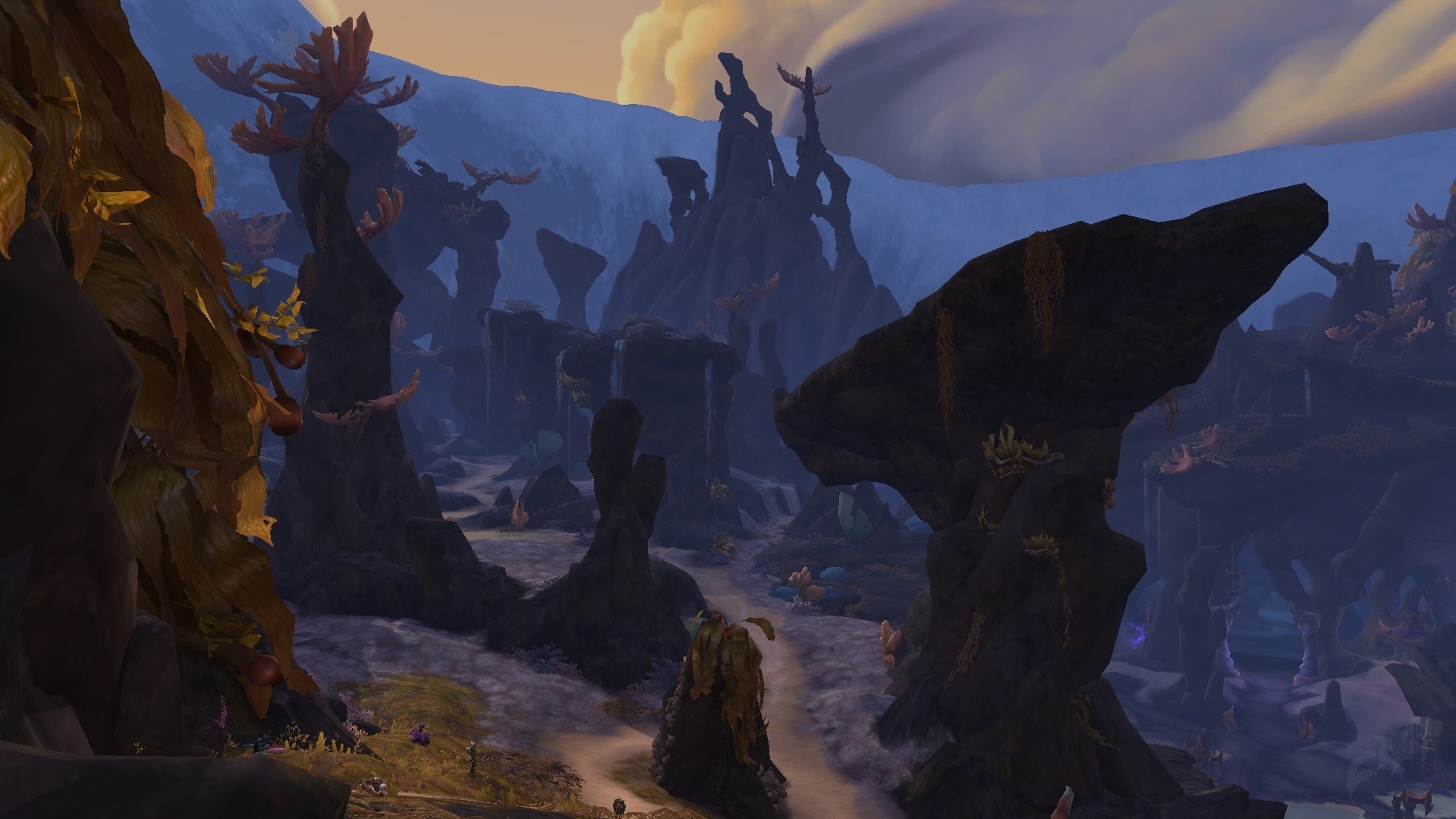 Amidst the ongoing war between the Alliance and Horde, a new threat emerges. A familiar name is washed ashore by the whispers of the sea. Queen Azshara has emerged from the tides after eons of biding her time. With her comes the fury of her Naga followers and the untamed landscape of Nazjatar.
For months now, the Kalimdor Collective has been on the trail of emerging threats. Having heard rumors of the Queen's return from the restless spirits of Darkshore, the Collective has been attempting to stay one step ahead of its adversaries. The story continues as new dangers approach.
The war still rages on, as the Collective finds themselves pitted against foes great and small. Personal triumphs, unfortunate tragedies, and a future constantly in question awaits the Kalimdor Collective as time goes on. Will they stay close to the forefront and help reclaim Kalimdor? Will they travel to Nazjatar to fight the minions of Queen Azshara? What about members missing in action, or secluded in isolation? There are more questions than answers as far as the story of the Kalimdor Collective goes.
(get caught up with the story by following
this link
)
Will you answer the call, and join the Kalimdor Collective?

((OOC))
Recruitment for the Kalimdor Collective is OPEN.
We are looking for people interested in RP, PvE, and a little bit of PvP.
We have scheduled RP every Tuesday at 5pm (subject to change), with story-based RP scheduled at varying times. We intend to add more impromptu rp events as we gain more members. Most Thursdays we have a Tavern Night, and there are always opportunities for spontaneous unscheduled RP. Mythic plus has been known to run almost nightly, depending on attendance. Most of our events occur at 5pm server, with future events subject to be scheduled at various times.
We will be looking to rebuild our PvE ranks for the new tier as well. We are known to progress through current content on normal mode first, on a strictly casual basis. Members are not required to raid with us, but all are welcome. Our raids normally occur on Sunday nights, depending on attendance and start at 4pm server time. We promote a drama-free raid environment, and put an emphasis on fun over competition.
All races and classes are welcome, but they must fit our IC mission and be a minimum of level 80. We do require you to fill out a written application. After your application is approved, you will be interviewed IC before receiving your invite.
Follow this
link
for recruitment details!
To apply, follow the link in the top right corner (on the white bar)!
If you have any further questions or comments, feel free to contact Maeshkin, Telrien, or any other guild member in game!